All eight groups were drawn on our Twitch channel. You can watch the live stream back here.
One of the most important things ahead of the official launch of the third season of the CEE Champions on May 14 is history. The draw on our Twitch channel has determined all eight foursomes that will battle it out in their closed ring for two tickets to the playoffs. In total, we will find out the 16 qualifiers from all eight groups. We're glad we don't have too many "groups of death", which opens up space for less favored teams to advance to the playoffs. Let's take a look.
The very first group A offers a big name. ONYX are going for the title in their debut, while SC eSports will want to do even better than last year and advance together with the Hungarians.
Group B has a clear favourite. It is the ENTERPRISE team from the Czech and Slovak qualifiers, which already has a lot of experience from the international scene. But watch out for the others, surprises can happen.
Ukrainian B8s are in a similar position to B. In group C it will be hard to stop them, but for second place there will probably be a big fight.
The big unknown is group D. Anyone can advance from all four teams.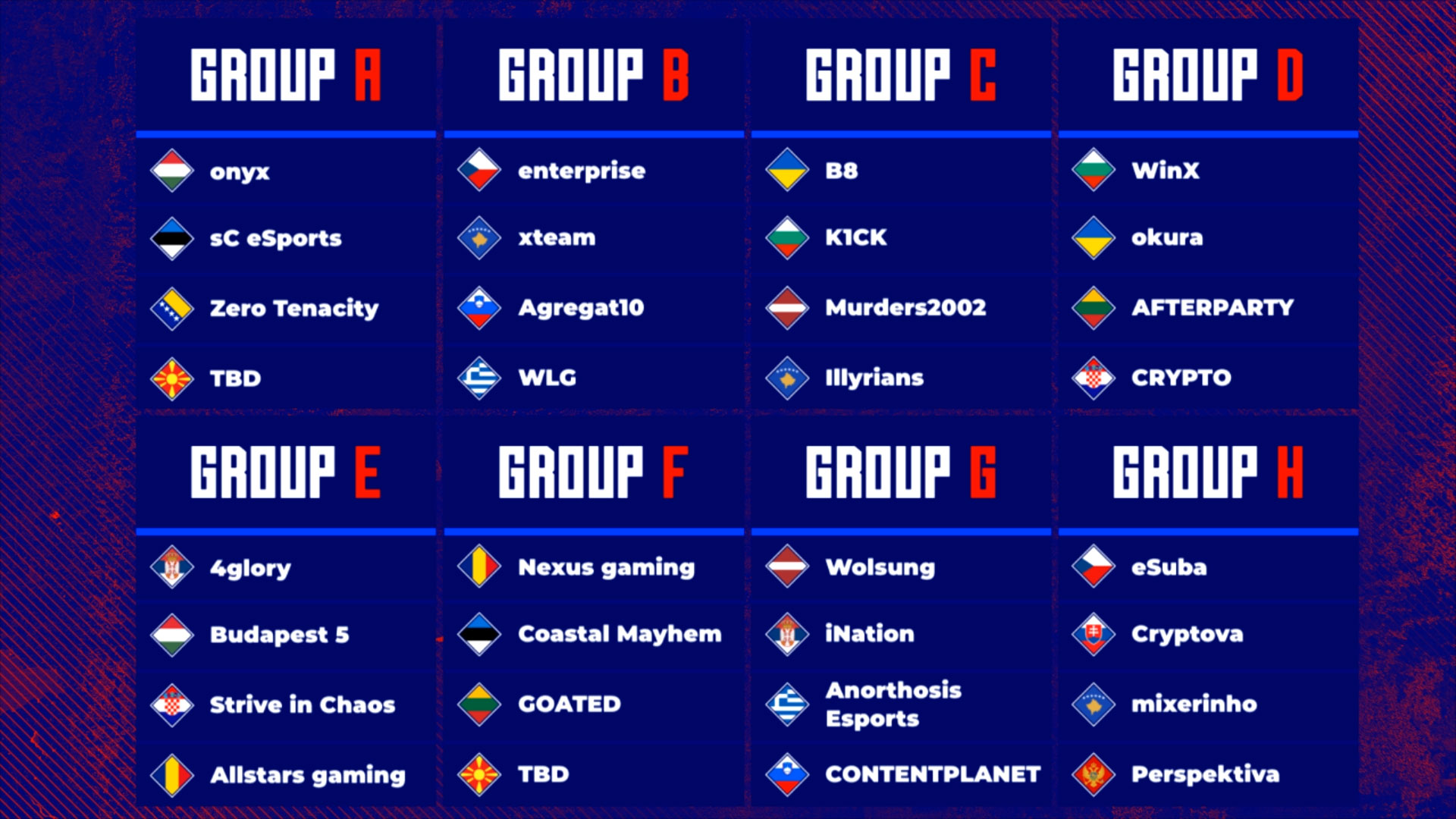 Right after moving to the second half we find an interesting group. In E, Budapset Five and 4glory will be the favorites, but watch out for Allstars gaming, who can shuffle the cards with Strive in Chaos.
Group F, like the first one, has only three members so far, the teams from Montenegro will join us later. Still, the names of Nexus Gaming or Coastal Mayhem can do a lot of damage.
The top four of group G will have a big fight between them for two spots in the playoffs. Favourites are iNation and CONTENTPLANET, last year's participants, but they will have to bring their best game to avoid being relegated.
The last group H offers a clear arrangement at first. Cryptova and eSuba from the Czech Republic and Slovakia have the ambition to win a medal and should not miss the play-offs.
For more information, keep in touch with the latest CEE Champions news on our Facebook, Instagram or Twitter!